On August 1st, I drove to the California Science Center for the 7th Annual Project by Project Tasting Benefit. Every year I've wanted to go but couldn't make it for one reason or another. I finally got to go this year and I'm so glad I did!
Plate by Plate is not just for foodies. I mean, obviously foodies will be more willing to pay up for tickets to a tasting event but it's really all about helping out the
Asian Pacific Islander Small Business Program
which in turn helps out micro businesses in Los Angeles, especially those of low income immigrants of Chinese, Korean, Japanese, Thai, and Filipino communities.
So yes, not only do you have to have the stomach for this event but also the heart (cheesy, I know but it's true).
I ended up bumping into so many people that I knew from the past, people who I fell out of touch with, and people who probably would not have recognized me even if I had introduced myself to them. It's amazing how food can bring people together. I really felt like I was part of this larger network of Asian Americans who really cared about the community.
Once inside the large open space, I saw that there were as many drinks and dessert options as there were savory dishes.
I already knew I couldn't try everything. I started from the back, hoping to go against traffic but I think a lot of people had the same idea. I started with
Mendocino Farms' heirloom tomato and arugula with bacon and mayo (aka BLT on crack)
and Kurobuta Pork Belly Banh Mi. Both were generous in portion and quite tasty.
I'm totally going to be a regular at their dtla location.


Once I started my way through, entertainment was well underway with celebs like James Kyson Lee of

Heroes

(Ando) and Jinah Kim hosting (newscaster).
Debbie Lee
from the Food Network's
The Next Food Network Star
was there, as well as actors like Lynn Chen
(
Saving Face
), Dante Basco (
Hook, The Debut, Take the Lead
)
, Jimmy Tsai (
Ping Pong Playa
), Archie Kao (
CSI: Las Vegas
), Aaron Takahashi (
Yes Man, Balls of Fury
), Ruthie Alcaide (
Real World, Road Rules
), Jessica Yu (
Ping Pong Playa, Grey's Anatomy
). Oh, and Aziz Ansari, aka RAAAAAAAANDY was also there. Ted Chen (newscaster), Jerell Scott (Project Runway), Eliot Chang (comic), Lara Avengoza (Recording artist, The King and I) were also all there to help out as sous chefs for the night. Entertainment was provided by DK Denkym, J-Ricz, Oak & Gorski, Daion Taiko, and Esna.
I never found XIV by Michael Mina. I wonder if they were in the VIP section with The Bazaar. My favorite dish of the night was from
Mo-Chica because it reminded me of home.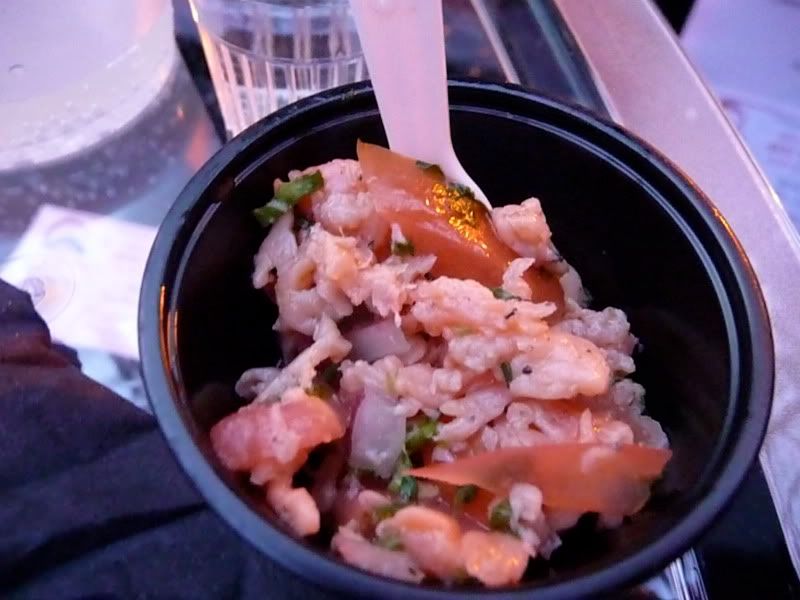 Japan Bistro's Salmon Ceviche was a great way to whet my appetite.
Moonshadows had this interesting dish. Possibly the prettiest of the night though I wouldn't necessarily say it was the tastiest. It was the truffled cauliflower panna cotta, lobster gelee & butter poached lobster, and american sturgeon caviar all in one dessert looking dish.
Scoops & Golden State had the beer floats, Matt from Mattatouille working the station.
BottleRock Downtown had green papaya salad avec oreille de cochon (pork ears).

Katsuya's line was too long, so I skipped out on it.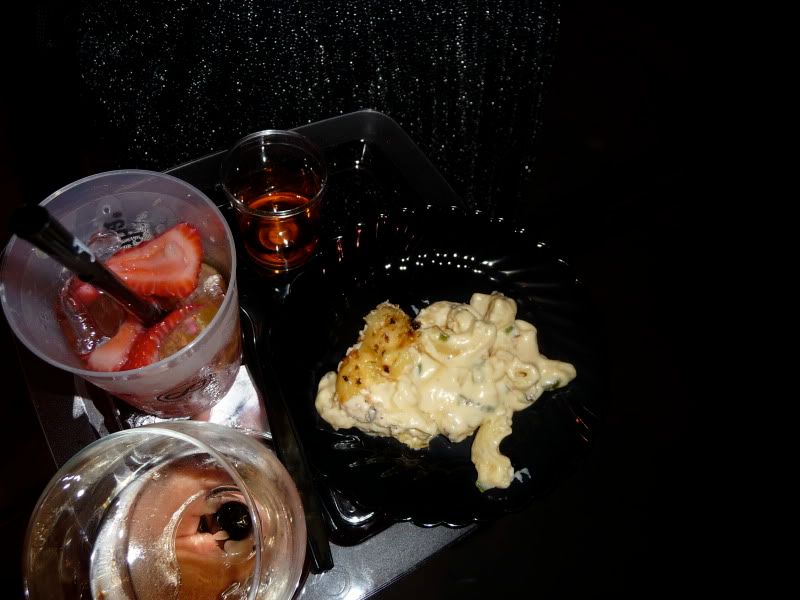 Citizen Smith had jalepeno mac and cheese.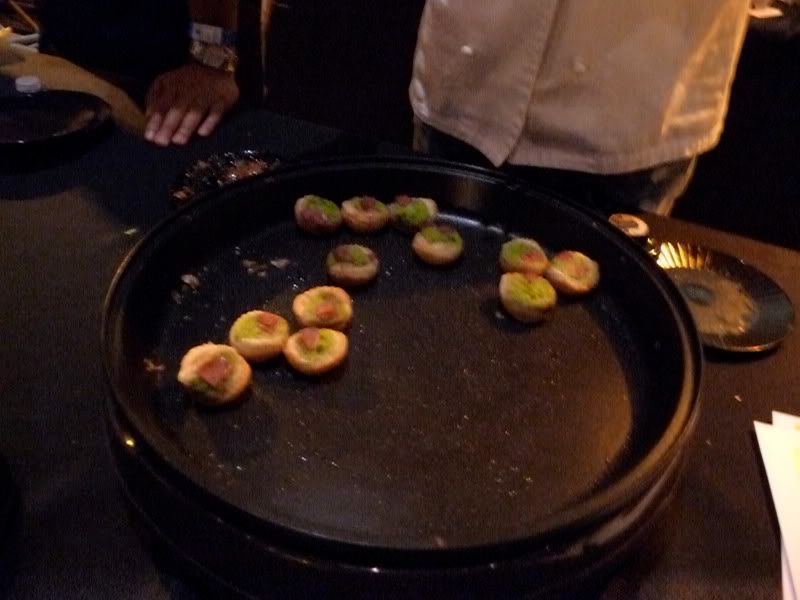 Cicada, where Dante was helping out, had these fritter-like things with a kimchi topping.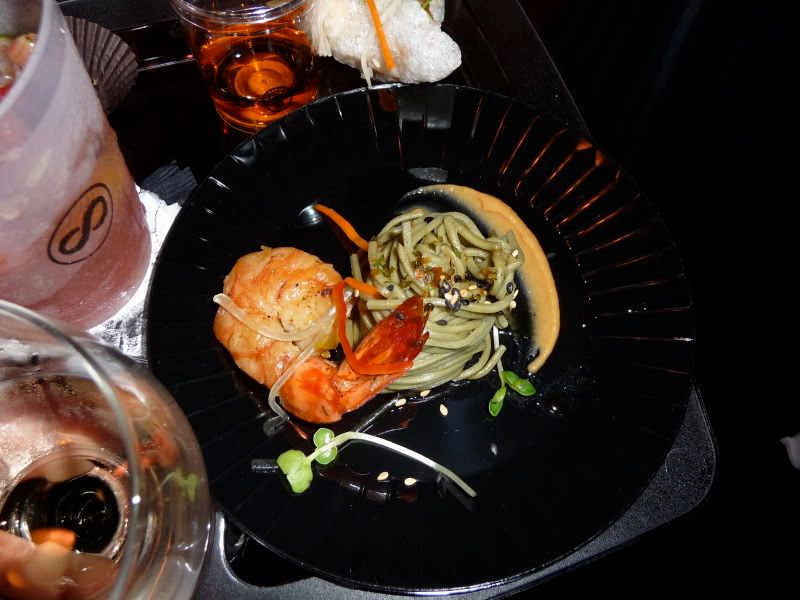 Roy's had great dishes with noodles and skewers.
I really enjoyed the taste and presentation of their dishes. I might check them out, since they're also in the dtla neighborhood.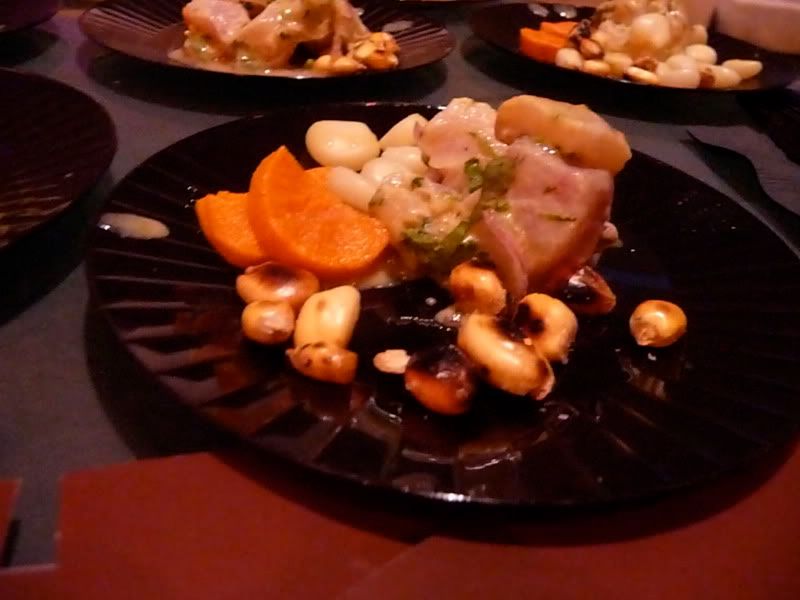 My favorite dish of the night was from Mo-Chica, a peruvian restaurant. They had a ceviche with hominy. I loved it because it reminded me of my childhood in S. America. I'm going to use the 20% coupon I got from them. It expires in October so I have to go soon.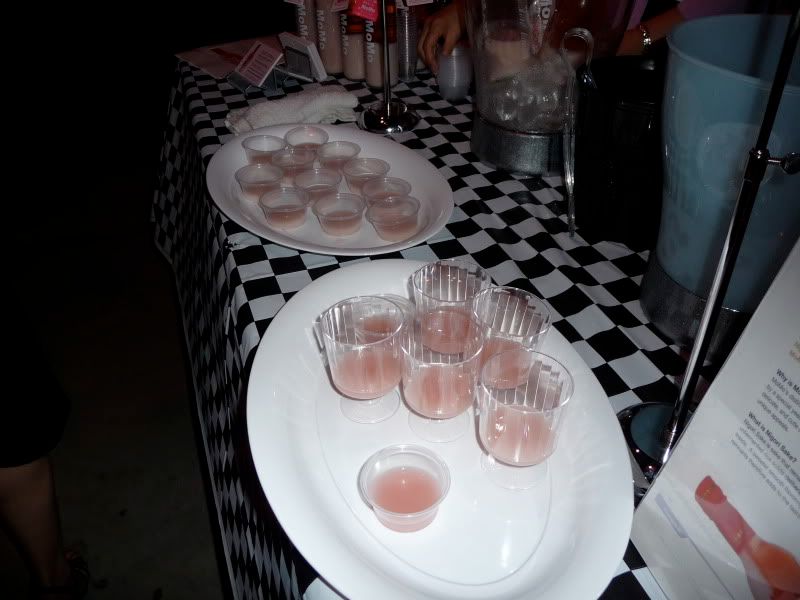 These were milky, yogurty alcoholic drinks. They reminded me of yogurt soju.
Pinkberry was there, introducing new flavors. I think I got the coconut.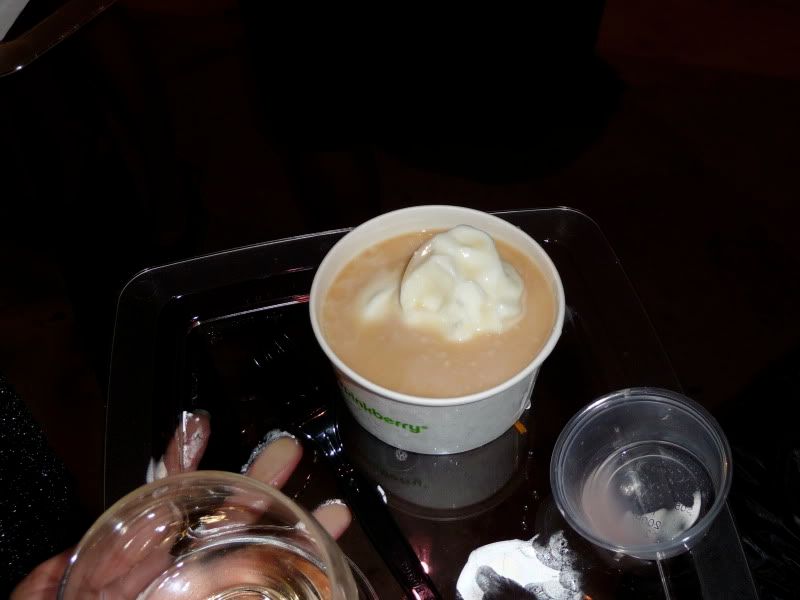 It was too hard. I think they overfroze it to make sure it wouldn't melt but it was so hard I had to add some liquid to it. I chose to follow Scoop's example and added some alcohol in it.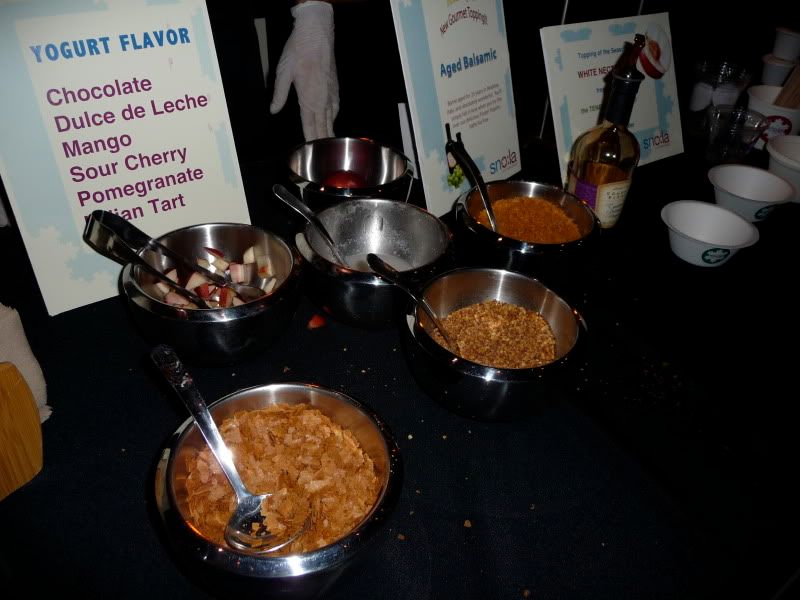 I finished the night with Sno:LA. This fro-yo tasted really healthy and the toppings were really interesting and healthy-sounding.
I'm glad I tasted it because I can't wait to go back. It's like Pinkberry for green people.
I also had Brazilian mojitos from Sagatiba,
a shot of Courvoisier
, a toffee from Valerie Confections,
some dessert from Good Girl Dinette, and then I got really full so I just took pictures of the beautiful concoctions. There were a ton of desserts. I wish they had more savory things because I don't particularly have a sweet tooth but for those who do, it would have been heaven for you.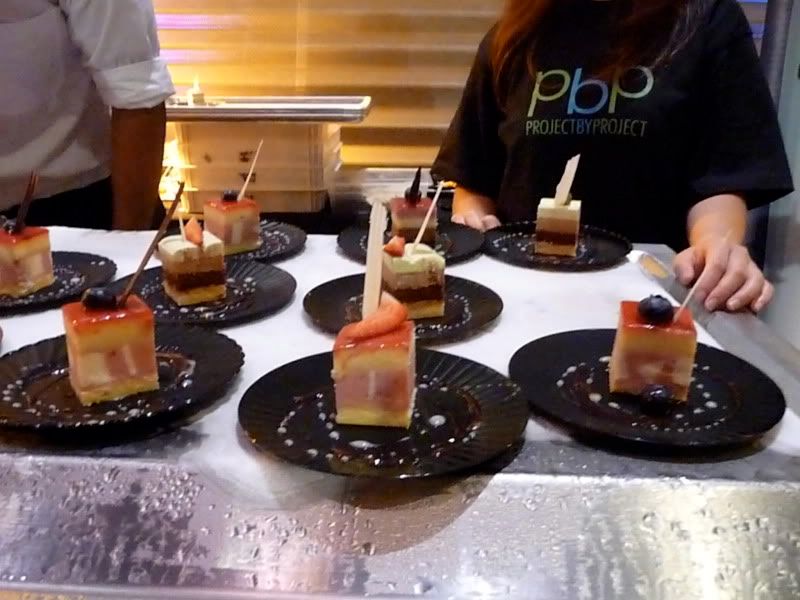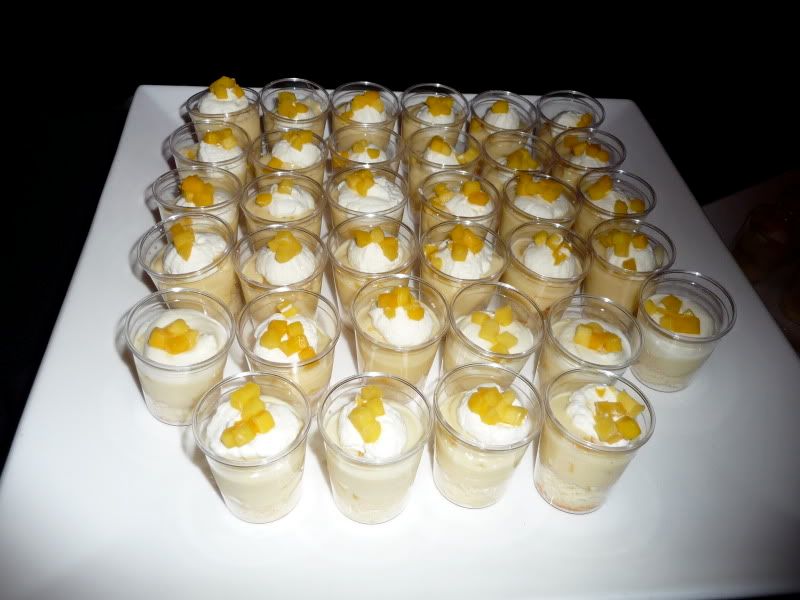 There was a silent auction for attendees to bid on the unique experiences from exclusive cooking lesson, special dining package, airline tickets to chic products but I was too busy trying to taste everything. Some places ran out of food so I had to drink instead. It's very hard not to get buzzed at this event. Next year, I need to bring a DD so I can drink more.


The event was from 7 PM – 10 PM and ran $150 per person. Thanks
Abby
, for the hookups. Maybe next year, I will come back and be willing to pay for it. It's for a great cause and I was only able to try half the things. It's like going to Disneyland for the first time. You have to come back to get the full experience. I'm glad so many people have benefitted from this event.