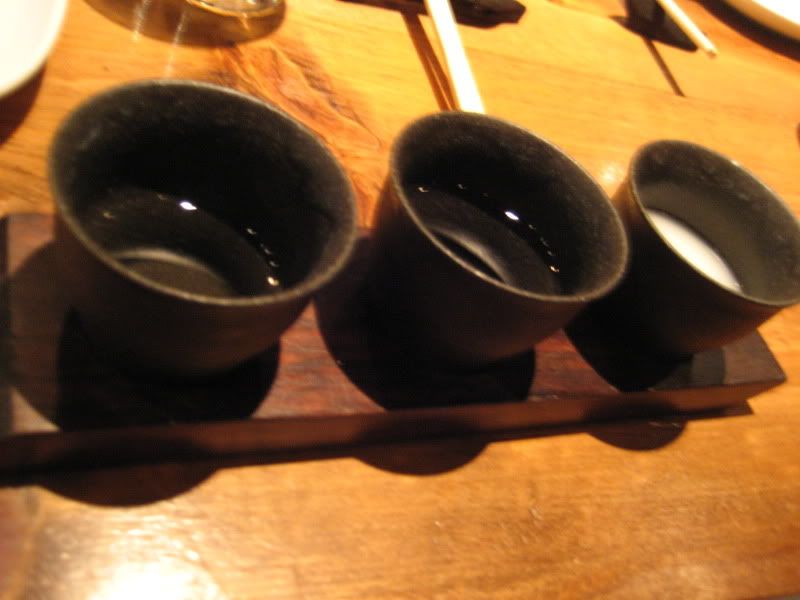 $35 pre-fixed menu plus $12 sake flight and around $10 for dessert per person. And this is what we got for that money:
I will try my best to describe what we ate since there wasn't a menu that we were looking at to see what we were eating. The waitresses just described what it was we were eating.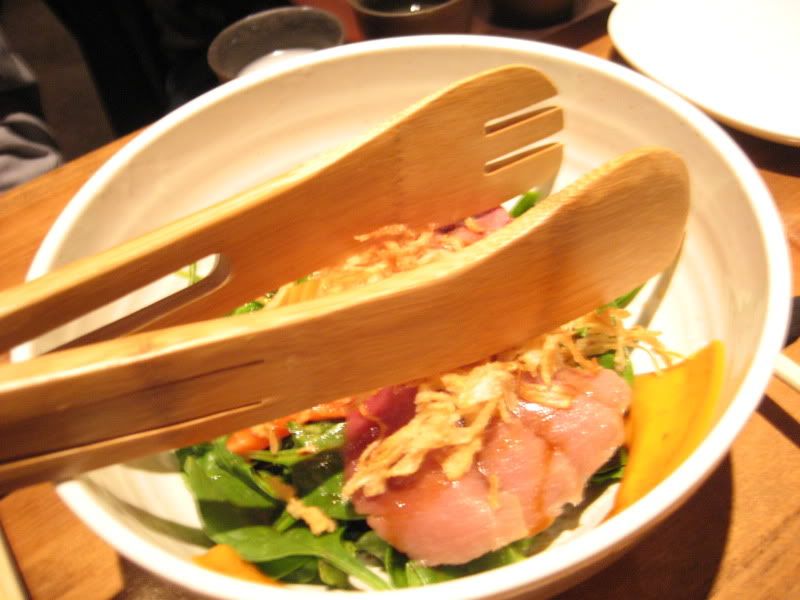 We started off with a sashimi salad. There were three different types of raw, mouth watering fish that melted like butter in my mouth.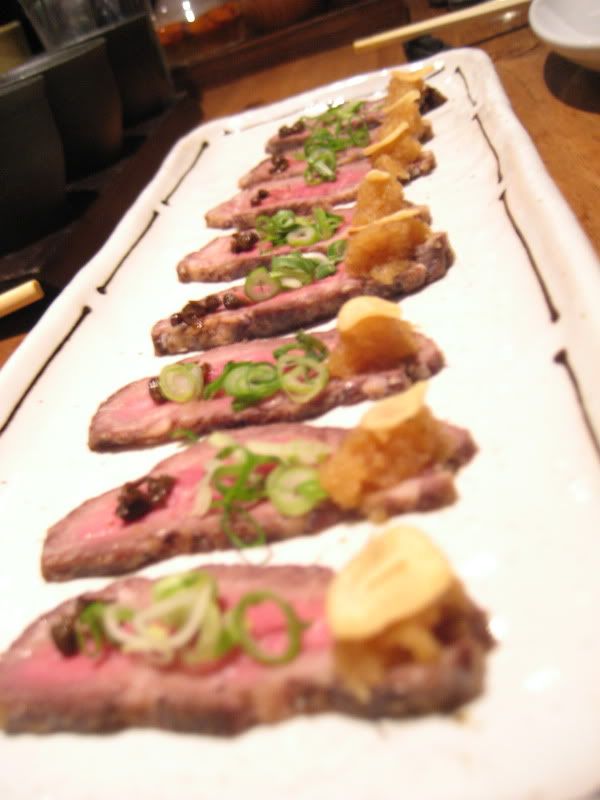 When this came, we were seriously shocked. On the phone, they said it was a three course pre fixed menu so we thought for a nano second, that this was our entree. thinly sliced beef with toasted garlic, green onions, etc. that you roll up and pop in your mouth. Since it was a tapas style, each person got to eat two. They were the size of my thumb when laid flat.
But then this came. Bacon-wrapped mushrooms. Anything with bacon and the mushroom gave it some juicy squirts in my mouth. Now I was curious to see what else would come.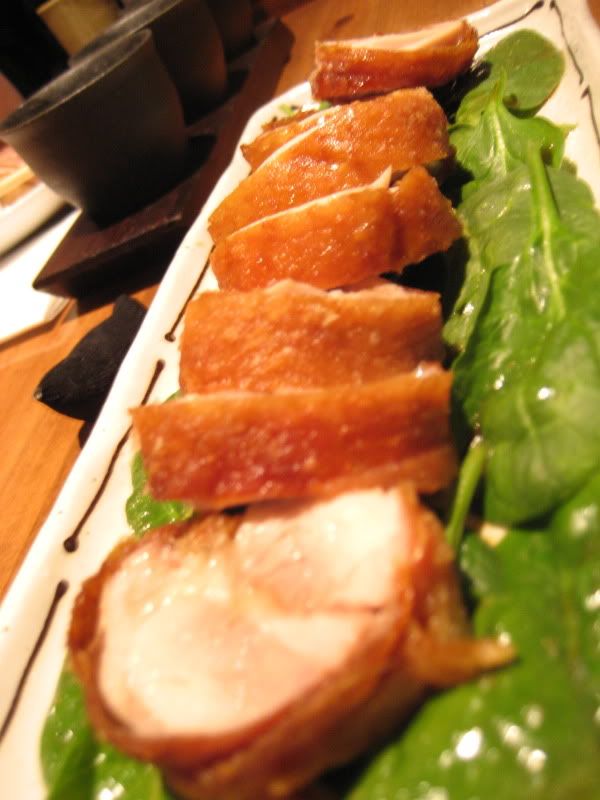 Nice! Crispy chicken! Juicy in the inside, crispy on the "crust" and taste-wise, more on the bland side than salty. All in all, a solid A-ok!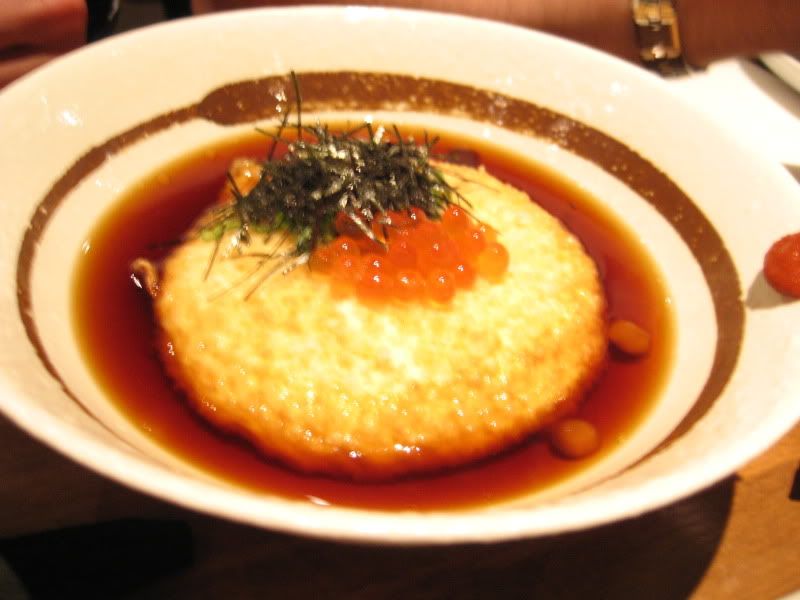 Perhaps the chicken was a palate cleanser because...Dun dun Dun. Behold, the
Agedashi Tofu
. I may not remember the names of the other dishes but I definitely remember the name for this creamy, silky tofu, fried so the crispy outer shell would crunch while you bite into it. The broth and the salmon roe along with the shredded nori all added to the perfect spoonful of wonderful textures and flavors in my mouth. Silky, creamy, crunchy, salty, sweet, soulful, oceanic. No wonder it got so many rave reviews on
yelp.com
.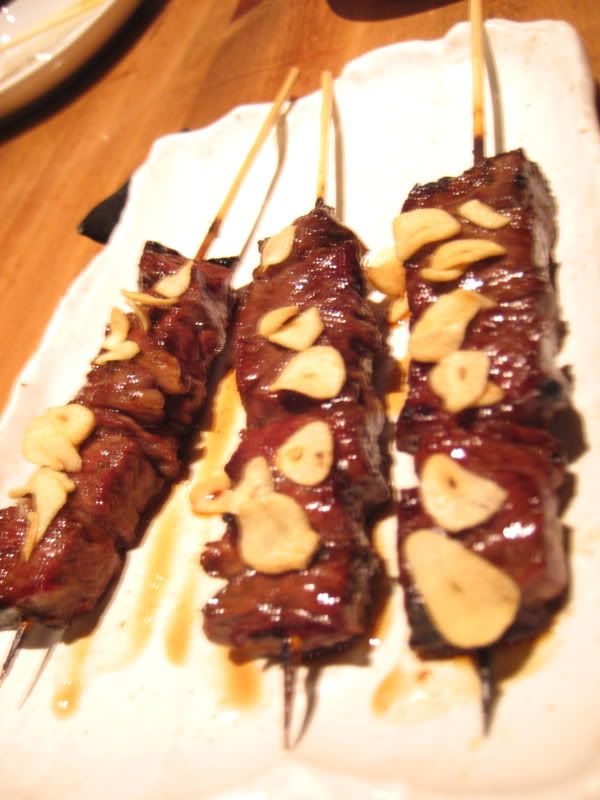 Next were some tender beef skewers with garlic "chips." They were definitely delicious but at this point I felt proteined out! I was hoping for something along the lines of the agedashi tofu...maybe carbs? Gah, I'm such a carb addict!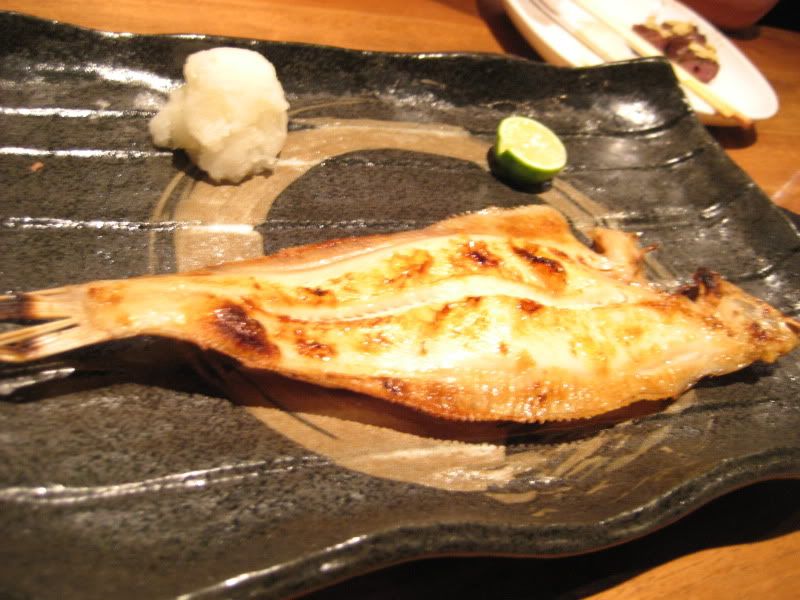 And then the fish. It was okay. If I had it with rice and kimchi, I would have loved it because the way it was fried made the fish uber crispy. But at this point, without any rice and after the beef skewers, I was reaching for my glass of water.
Speaking of the devil! CARBSSSSSSSS! Finally my beloved carb dish came out in the form of a rice bowl with salmon, greens, salmon roe. This off menu Salmon rice Kamameshi is so good the next day, too. This fat ass ate them as breakfast the next day and it still tasted amazeballs. it isn't too much carbs when you have it on its own at the start of the day vs. with a heavy meal or after eating a lot of skewers so take it home if you can't finish it. This and the agedashi as well as the kurobuta pork cheek are my go to staples now (I have been back about five times since the initial posting of this blog).
The waitress mixed it for us really well and everyone got a nice little bowl of tasty rice. There was enough for seconds, too.
OMG. Kurobota pork cheek. OMG. Squishy, juicy, and an explosion of pork fat in MY cheeks. I may have never had pork cheeks before. The consistency is so tender and crispy and fatty all at the same time, like a veal version of pork belly.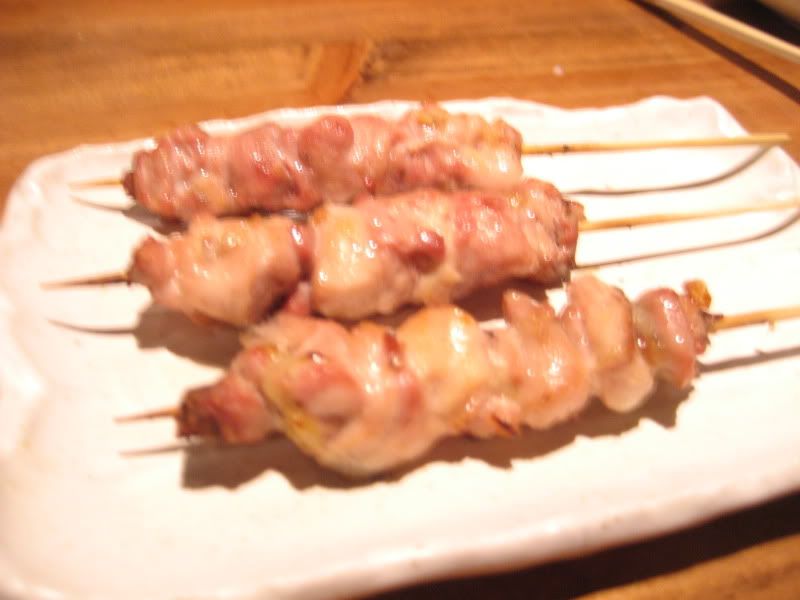 Why? Chicken Thigh! And because they were delicious. Not as delicious as the pork cheeks but the chicken thighs were pretty decent - tender and juicy.
I think it was called the bubbling pudding. Interesting textures and I thought I tasted some kefir-like flavor in there if I wasn't mistaken. It's pudding on the bottom and the fizz on top. Not the most popular one out of the group but by this point we were so stuffed everyone only had a few bites of the dessert.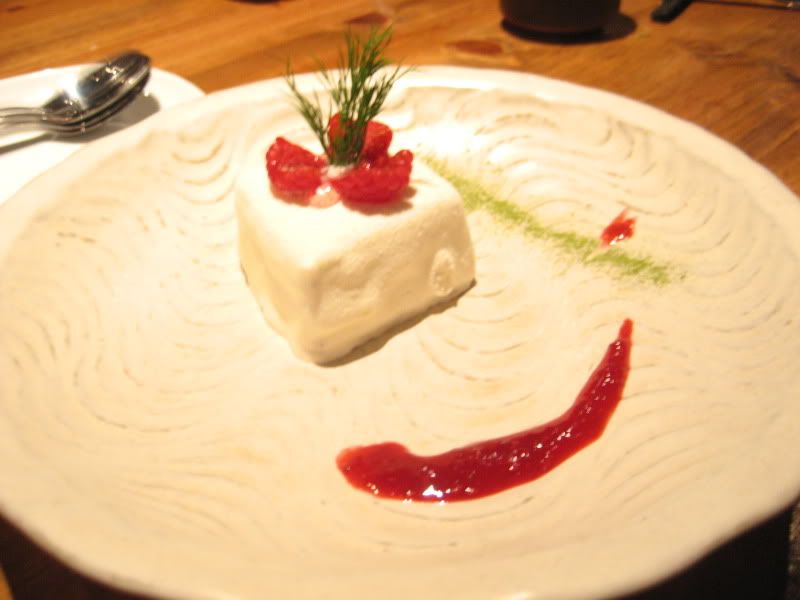 The fluffly cheesecake. More fluffy than cheese cake but still pretty darn good.
Now that I've been here once and tried the pre fixed menu, next time I come, I know to order just the agedashi tofu, kurobota pork cheeks, sashimi salad, and of course, the sake flight. But, if I got hungry, I'd probably splurge on the pre fixed menu again, especially if I went with a big group like I did this time. It's definitely a hidden gem in Vegas, off strip, where the food is good and the price is low. And the quality - you really can't beat it.
I don't think they do pre-fixed anymore. They may do something similar, for large groups, and it is a bit more expensive now.
Raku
5030 Spring Mountain Rd
Las Vegas, NV 89146
(702) 367-3511